Adam Kuhn

Biographical
Born
May 1, 1990
Hometown
Sterling, Virginia
Game Summary
Original Season
AYTO? 1
Money Won
$50,000
Spin-offs
AYTO? SC (final)
Social Media
Twitter
IamAdamKuhn
Instagram
iamadamkuhn
AYTO? Season 1 Gameplay
Edit
Adam has a reputation for being a man-whore in his small hometown in Virginia, and it's a reputation he admits he deserves. But he doesn't think he's a bad guy. Adam realizes he needs a girl who is independent and athletic but not as much of a party animal as he is. He needs a girl who will "put him in his place" rather than letting him walk all over her.
Getaway Challenge Gameplay
Edit
AYTO? Second Chances Gameplay
Edit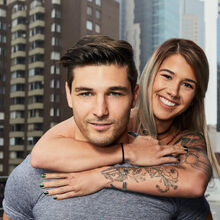 In the very first episode of Are You The One? Shanley was sent to the Truth Booth and found out that her crush was not her match. However, that didn't stop Shanley and her "No Match" from maintaining a relationship that sent the rest of the AYTO house into chaos. At the same time, Adam was in the middle of his own on-again-off-again- crazy-again relationship. As a result, they were never on each other's radar. Adam and Shanley don't share a romantic spark but acknowledge that the matchmakers got something right because they are now best friends who chat at least once a week. Now these besties are ready to prove that their relationship might not be perfect - but they're the ultimate Perfect Match.
Episode
Mission
Partner
Result
Team Money
1
Find Your House
Shanley
3rd
$25,000
2
In Sickness & In Health
4th
$25,000
3
Perfect match Selfie
2nd
$35,000
4
Local Gifts
N/A
$35,000
5
Get in Sync
4th
$35,000
6
Let Your Guard Down
3rd
$40,000
7
Communication Skills
4th
$40,000
8
Get In The Groove
1st
$60,000
9
Keep Your Cool
3rd
$60,000
10
Get Out of Melbourne
3rd
$0
    

The team won the mission and was safe from elimination.

    

The team was safe from elimination.

    

The team was voted into The Choice and decided to 'Share' their money, therefore remaining in the game.

    

The team placed 3rd in the final mission.
Outside Show Appearances
Edit