Ellie Puckett

Biographical
Hometown
Hamlet, North Carolina
Game Summary
Original Season
AYTO? 2
Money Won
$47,619
Spin-offs
AYTO? SC
Social Media
Twitter
whaattaafoxx
AYTO? Season 2 Gameplay
Edit
Hailing from the small town of Rockingham, North Carolina, Ellie is a sweet Southern girl with a sassy streak a mile wide. Ellie admits that her big personality can sometimes be too much for guys to handle and she's excited to leave the shallow dating pool of her home town behind to find a man who can stand up to her.
AYTO? Second Chances Gameplay
Edit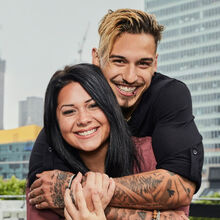 Upon arriving in Puerto Rico, Nate and Ellie had an instant connection and Ellie was crushing hard. Unfortunately, for Nate it was more of a brother/sister thing and Ellie found herself sitting firmly in the friend- zone. Back home the two remained good friends until a confrontation made Ellie block Nate on social media. For Nate and Ellie, this is a chance to rehab their strong bond and see why they're a Perfect Match.
Episode
Mission
Partner
Result
Team Money
1
Find Your House
Nate
4th
$20,000
2
In Sickness & In Health
9th
$0
    

The team was safe from elimination.

    

The team received last place and was eliminated.