Hayden Weaver

Biographical
Hometown
Anderson, Indiana
Game Summary
Original Season
AYTO? 5
Spin-offs
AYTO? SC
Spinoff Winnings
$30,000
Social Media
Twitter
HaydenPWeaver
AYTO? Season 5 Gameplay
Edit
Hayden grew up on the edge of a cornfield in Indiana -- and his small-town comfort zone has (unfortunately) left him with not much game. One example: When he's texting a girl, he has to check with his buddies to make sure she is actually interested. Hayden wants to get married and have kids sooner rather than later, but reaching that goal is hard when he can't make it past the first move. Can Hayden find a girl who will stick out through the awkward beginning and get to see him as a true catch?
Getaway Challenge Gameplay
Edit
Truth Booth Match-ups
Edit
| Episode | Potential Match | Result |
| --- | --- | --- |
| 1 | Gianna | No |
| 8 | Carolina | Yes |
AYTO? Second Chances Gameplay
Edit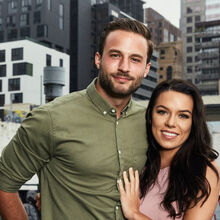 Although Hayden was fixated on his "No Match," Carolina managed to capture Hayden's attention. After being confirmed a Perfect Match, the Honeymoon Suite seemed like a great opportunity to solidify their relationship away from the distraction of their exes. Things were going well and they even got tattoos to commemorate the experience. But once the Are You The One? experience ended, Hayden went back to his old ways and back to his "No Match." For Hayden, this is a chance to make sense of their relationship. For Carolina, it's an opportunity to prove what they have, and possibly get it back.
Episode
Mission
Partner
Result
Team Money
1
Find Your House
Carolina
8th
$20,000
2
In Sickness & In Health
2nd
$30,000
3
Perfect match Selfie
5th
$30,000
4
Local Gifts
N/A
$30,000
    

The team was safe from elimination.

    

The team was voted into The Choice and decided to 'Share' their money, therefore remaining in the game.

    

The team was voted into The Choice and Hayden stole the money from Carolina resulting in their elimination.

    

Team Money was stolen by Hayden