AYTO? Season 4 Gameplay
Edit
Kaylen is all about being tuned in with her energies and the energies of others. But sometimes maintaining her zen in difficult situations is easier said than done. Like when her date took her out to an expensive restaurant for her birthday and left her the bill (as a gift). Unfortunately, the sales manager tends to be drawn to the energies of losers -- but can she uncover her spiritual match who will give her heart the namaste that it deserves?
Getaway Challenge Gameplay
Edit
Truth Booth Match-ups
Edit
| Episode | Potential Match | Result |
| --- | --- | --- |
| 5 | Giovanni | No |
AYTO? Second Chances Gameplay
Edit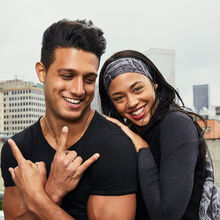 For Asaf and Kaylan, Season 4 was defined by relationships with their mis-matches, Francesca and Gio. When Kaylan's "No Match" relationship crashed and burned it sent shockwaves throughout the entire AYTO house. Asaf's was all about his own "No Match" relationship until faced with having to choose strategy over love in the final Match Up Ceremony. When Asaf felt torn at the end, it was Kaylen's insightful perspective that he turned to.Even though they never explored a romantic connection, the two recognize just how much they balance each other out. This is a chance for Kaylan and Asaf to see just how deep that connection goes.
Episode
Mission
Partner
Result
Team Money
1
Find Your House
Asaf
2nd
$30,000
2
In Sickness & In Health
8th
$30,000
3
Perfect match Selfie
8th
$15,000
4
Local Gifts
7th
$7,500
5
Get in Sync
6th
$0
    

The team was safe from elimination.

    

The team received last place and was eliminated.

    

The team received last place but remained in the game due to another contestant, who got voted into The Choice, stealing the money from their partner, and remained in the game.