Nathan Siebenmark

Biographical
Born
June 19, 1992
Hometown
Berrien Springs, Michigan
Nickname(s)
Nate
Game Summary
Original Season
AYTO? 2
Money Won
$47,619
Spin-offs
AYTO? SC
Social Media
Twitter
MtvNateSiebs
Instagram
MtvNateSiebs
AYTO? Season 2 Gameplay
Edit
Despite his rocker style, faux hawk, and tattoos, Nathan is nothing like the bad boy his looks would suggest. Like any guy he always goes after the "hottest girl" in the room and usually succeeds. Yet, once he has her she is pushed away by his immediate attachment. To find true love does Nathan need to change his ways or does he need to find someone who can love as hard and strongly as he does?
Getaway Challenge Gameplay
Edit
Truth Booth Match-ups
Edit
| Episode | Potential Match | Result |
| --- | --- | --- |
| 8 | Christina | No |
AYTO? Second Chances Gameplay
Edit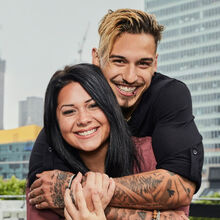 Upon arriving in Puerto Rico, Nate and Ellie had an instant connection and Ellie was crushing hard. Unfortunately, for Nate it was more of a brother/sister thing and Ellie found herself sitting firmly in the friend- zone. Back home the two remained good friends until a confrontation made Ellie block Nate on social media. For Nate and Ellie, this is a chance to rehab their strong bond and see why they're a Perfect Match.
Episode
Mission
Partner
Result
Team Money
1
Find Your House
Ellie
4th
$20,000
2
In Sickness & In Health
9th
$0
    

The team was safe from elimination.

    

The team received last place and was eliminated.
Outside Show Appearances
Edit